We have been moving families safely and securely for decades. To find out how we can help, simply send us your details and one of our experts will be in touch.
Hassle free removalists in Cairns, Townsville and Brisbane
Greater Northern Removals and Storage help individuals, families and businesses move, taking care of all your possessions whether they are in transit or storage anywhere in Australia. We take pride in providing a truly tailored, hassle free, great value service, giving you peace of mind at what is often a stressful and disruptive time.
As part of the local community in Far North Queensland, we have been trusted to help our neighbours move for over 30 years. Whether that's for local moves within Cairns or Townsville, across to Mount Isa, up to the Cape or out to the Torres Strait.
Our Brisbane depot extends our reach even further, providing a comprehensive service throughout the entire Queensland region.
A family owned home removalist business operating since 1986, we have developed a range of end-to-end removals and storage services that ensure your move runs smoothly. From packing and unpacking, to the more unusual requests such as pet or vehicle transportation, we can help. Each of our furniture removal trucks is equipped with protective removal blankets as well as fridge and piano trolleys and is operated by our full trained family of removalists.
An accredited supplier to many Federal and State Government departments, you can count on us to deliver dependable relocation and storage solutions, safely and securely, whatever your needs.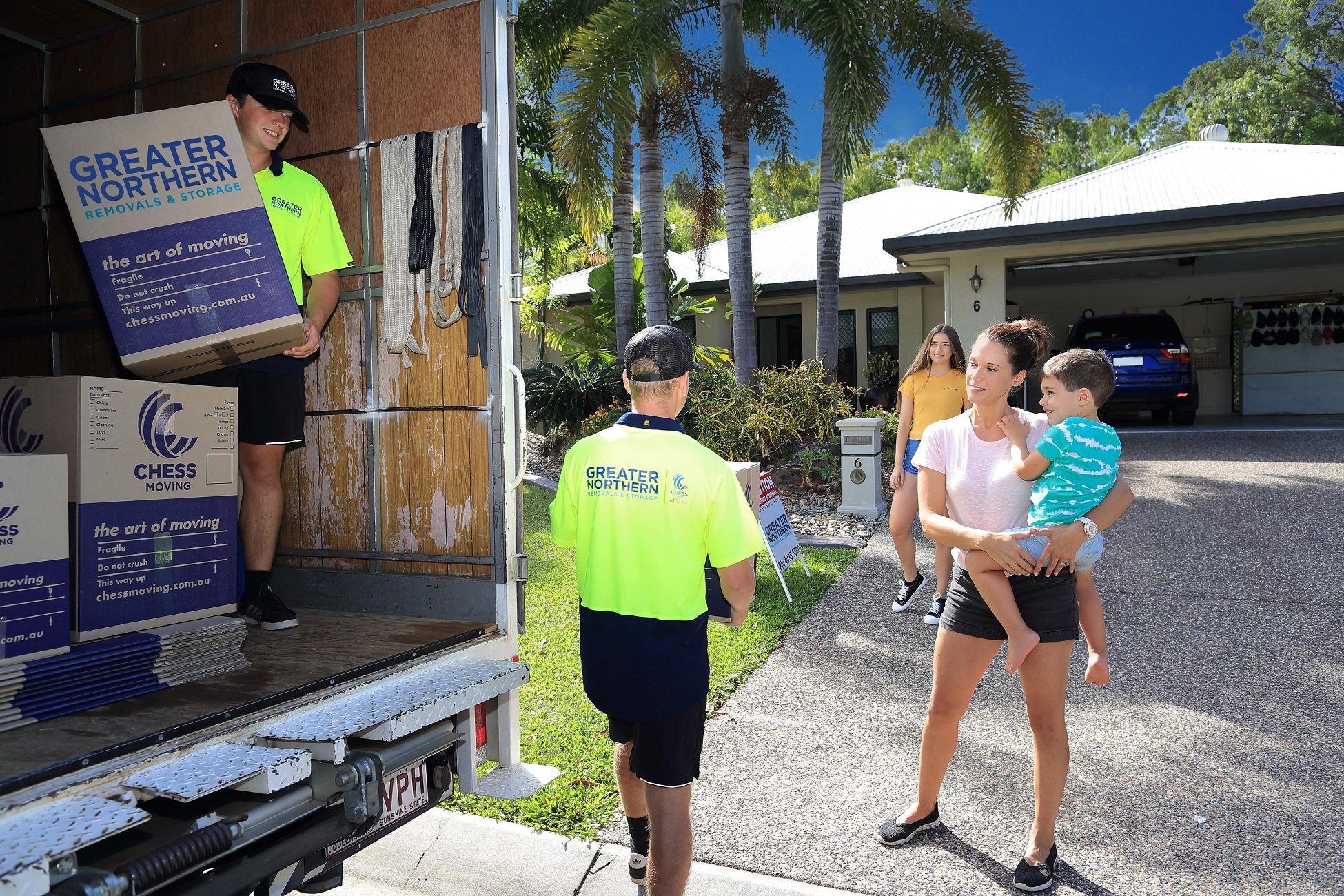 WE'VE GOT AUSTRALIA COVERED
Your North Queensland partner for Chess Moving Australia, we're part of an Australia wide network of long-standing family owned professional removal companies, giving us 98% coverage of the Australian population. All partners are full AFRA members, bound by a strict code of conduct giving you reassurance that you are in trusted hands.
Get a quote
YOUR MOVE, MADE EASY
We move families, not just homes and understand that each move is different. We pride ourselves on being responsive, flexible and approachable, ensuring that all your moving needs are catered for through our extensive range of end-to-end services designed to make things easy.
Get a quote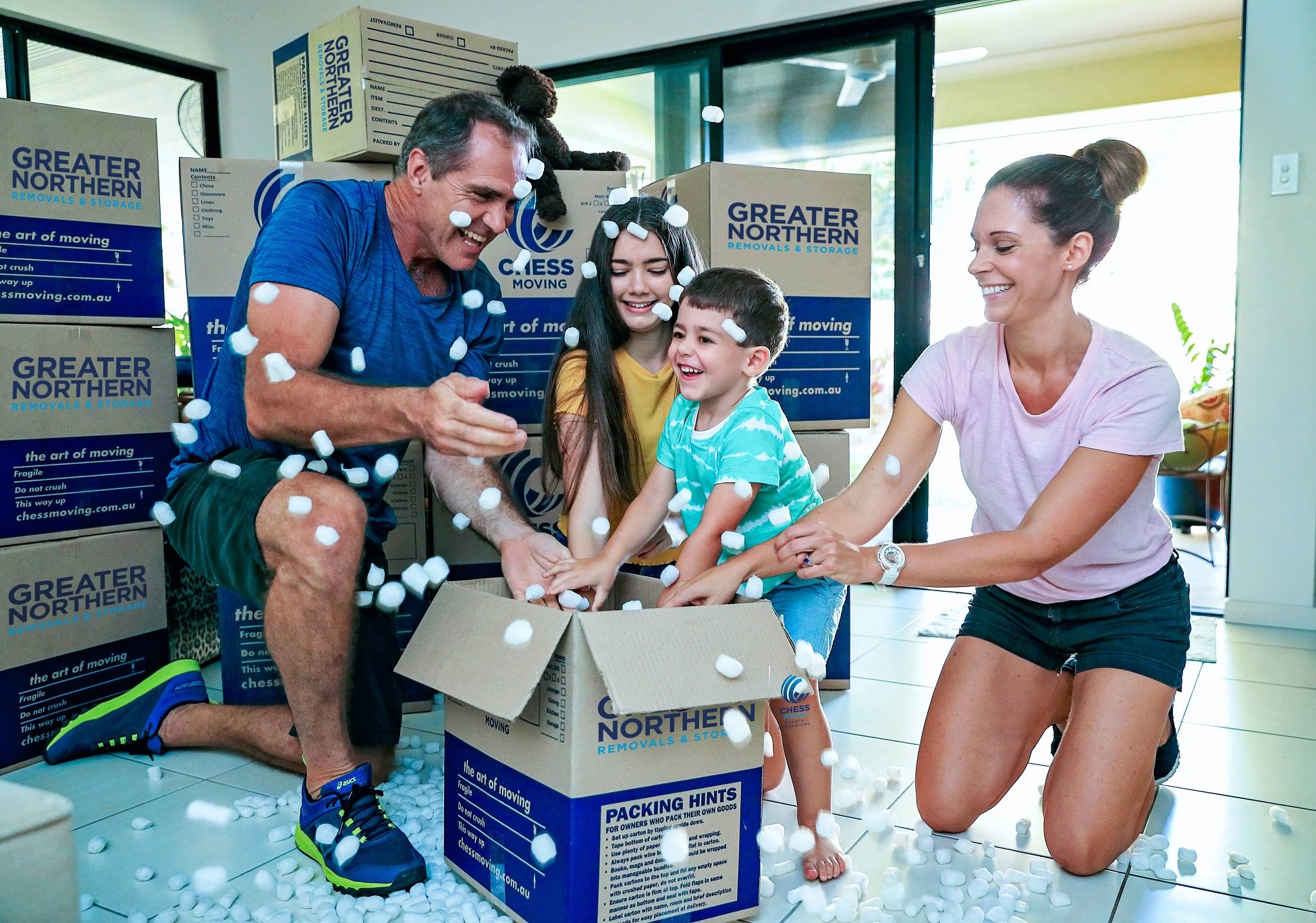 PRIORITY CARTONS
Company Policy dictates Greater Northern Removals and Storage supplies a Priority Carton on every Household Removal.
The Priority carton has a unique colour and design so it stands out from all other cartons in your consignment and will contain the most items which you need access to immediately when you arrive at your new home.
The Priority Carton is always the last item loaded in the truck so therefore, it is the first item unloaded. The removalist will pack all essential items such as television leads, remote controls, nuts and bolts from furniture items dismantled and other miscellaneous things you will need urgently. If tea and coffee are essential items for your household, then simply add them to the priority carton for quick access at delivery.
Great service nice friendly disposition. Very organised. Extremely happy with our service on time great communication. I would highly recommend.

Blame it on my gypsy soul
08:39 22 Jun 22
The staff at Greater Northern Removals (Chess Removals) were so helpful. From booking and communication with the administration ladies, to the guys who moved our belongings on moving day. They were punctual, careful and put our belongings wherever we asked them to when unloading the truck.Reasonably priced, we would absolutely recommend this company for your next move. Thank you.

Mura Consultancy Services
04:40 25 Feb 22
My furniture was delivered on time, undamaged, and with care. Both admin staff and removalist guys were friendly and helpful

Trina Baker
23:08 23 Feb 22
Congratulations on your award 🏆awesome staff thanks heaps Michele & David Crains to Melbourne 🤙

David Marshall
06:03 17 Feb 22
Terry and his guys did a awesome job getting my gear relocated to remote Queensland Island. The delivery came a week early and one the easiest moves I've had to organise. Thanks for the help. Will recommend to everyone.

Simon Black
23:59 03 Feb 22
By far the best value than any other quote we received. Shipped all of our belongings from Cairns to Rural Victoria in just eight days! The team who picked up and unloaded were both friendly and professional. Would definitely recommend!

Sarah Murphy
09:20 15 Nov 21
The office staff were quick and efficient to answer my queries and get the job booked. We only had one removalist turn up to deliver the furniture which concerned me at first but I didn't need to worry as he was very quick and did the job of a couple of men easily. No furniture was damaged in the move which was a relief. I would rebook with this company again based on this moving experience.

Jackie Eggins
02:55 05 Nov 21
My moving experience with Greater Northern Removals was fantastic! They've made the whole move easy and stressless! Definitely 5 star!

Yixuan Ruan
08:13 28 Oct 21
The staff at GNR did a fantastic job. The removal crew were professional and highly efficient and also courteous, considerate and friendly. Nothing was too much trouble. The office staff were very helpful, professional and understanding. The staff made the process so much easier than we anticipated. GNR's quote was in the middle but excellent value for money given the quality of the service.

James Jones
06:03 20 Oct 21
Thank you for the great service for my move from Cairns to Brisbane. Friendly and helpful staff. Furniture was picked up and delivered following the schedule. Many thanks for your assistance.

starnight2301
22:57 18 Oct 21
I moved from cairns to Coffs Harbour. The 3 men that picked up my furniture and packed the truck were AMAZING!!! I could not recommend greater northern removals in cairns more highly.Unfortunately when unloading in Coffs Harbour the two men although friendly stood on my boxes to get to higher items in the container and did not take much care. I would describe their approach to my belongings as careless. I am aware they are not from cairns though.Again the men in cairns were simply the best!

Justine joanne
06:33 08 Oct 21
Greater Northern Removals did an excellent job of making our move from Cairns to Brisbane as stress free as possible. We couldn't be happier with the service they provided. Great communication and care from quoting to pickup, delivery and beyond. The price was competitive, staff professional and personable, and all around great experience. Highly recommended.

I would like to commend Greater Northern Removals management and team for another great transportation job. It is always a pleasure receiving their friendly/good quality service. I would highly recommend GNR to anyone requiring their services.

Miranda Wood
07:20 26 Jul 21
Greater Northern were professional, fast and took excellent care of our furniture from pickup, to storage to delivery. I highly recommend David and his team. They did a great job for us.

Great to deal with from the very first phone call to the final call from them after delivery.All what was said to happen DID happen without stress. Excellent pricing especially considering where they had to pick up the load.Would certainly deal with these guys again.

GRAEME SUTTON
05:07 25 Jun 21
We moved from Cairns to the Brisbane area. From the start of the removal process; getting the quote to the removal to the Cairns deport, storage and the final transporting and delivering to our new house the whole experience was seamless and very efficient. David Joshua was our consultant in Cairns is very professional and very competent. Would definitely recommend Great Northen Removals if planning a move.

Bruce Shipstone
06:01 25 May 21
Excellent service and price. Very honest and transparent business. Moved a lot of things from Cairns to Melbourne and nothing was broken. Highly recommended.

Gavin Sanda
03:12 18 May 21
I had a great experience with Chess moving from Cairns to Adelaide. David Joshua in Cairns came to the house to quote and provided a personalised service. He was happy to drop back with more boxes etc when required. Boys in Cairns and Adel did a great job with uplift and unpack. Very professional, friendly and courteous.

Helen Thornton
07:01 17 May 21
We have moved many times and this moving company has been one of the best we have used. The staff where professional, friendly and nothing was too much trouble. They even wrapped items that previous movers have not. It made the experience of moving a lot less stressful

Lauren Hobson
23:27 13 May 21
Very efficient and reasonable in price

Gabrielle McEvoy-Bowe
07:08 12 May 21
From pick up to drop off professional service. Reasonable price, very friendly staff and cannot fault them. Will definately recommend them.

lesley hutchinson
22:29 23 Apr 21
Excellent people to deal with

Glynn Scott
00:31 08 Apr 21
Great Northern Removals took our houseful of possessions a container load from Cairns stored it in Brisbane and then brought them to our new house in Buderim on the Sunshine Coast . Every part of the removal was handled efficiently . The men were cheerful well trained efficient fast and careful . My baby grand piano was very carefully packed it arrived and was installed perfectly .We had three quotes Great Northern was the lowest by far . We were very pleased with their service and will recommend them to anyone who asksFred

Faith from the Cairns office was a pleasure to work with, she coordinated everything without any trouble, kept us informed of progress at every step. She made a stressful situation seem trouble free and easy. Thank you.The pick up crew arrived as scheduled, a keen and professional crew who quickly got the house packed up into the container, as was the crew who delivered our household items at the new residence. Everything was unpacked and placed where we asked without fuss or damage.Considering Covid-19 restrictions preventing interstate travel, the move from Queensland to Tasmania was made very simple, timely and good value for a reasonable price.

Preben Farbaek
03:26 24 Feb 21
Outstanding customer services. The staff made our relocation from sunny Townsville to Canberra as stress free as possible. Both teams ( TSV and Canberra) were very professional. Highly recommend them.

Very easy to deal with, all questions answered quickly and on time. Would use them again.

Heather Mutton
10:07 22 Jan 21
Very professional and knowledgeable about the service they provided. Staff provided tips on best practice to protect furniture. Staff were super friendly, building rapport thereby making me feel valued.

Judith Tucker
01:50 22 Jan 21
Faith in the office, and the 2 young removalists who loaded our stuff in Cairns couldn't have been more helpful or careful . Every item was wrapped in a clear bag and labelled and itemised then wrapped in removalist blankets . I met the truck here , on the Sunny coast and the process was just as careful and thorough . Everything ( that I've unpacked ) is intact and fine . It was a wonderful and reassuring customer experience , I can't recommend Greater Northern Removals more highly .

Margot Ross
20:27 23 Nov 20
All removal, loading & unloading, were carried out exceptionally well and we were most pleased with the personalised service

Robert Harris
06:01 18 Sep 20
This company is fantastic. From the beginning they introduced themselves with friendly smiles. They were prompt and more importantly very careful with your furniture. They wrapped everything even stuff that I'd already wrapped in plastic. The guys both in cairns and Grafton were polite friendly hard working and professional. I have moved a few times and no company has measured up to this company. I can't recommend these removalist high enough.

Bernadette Brown
08:12 07 Sep 20
Professional in all aspects.Quality team delivered the service from home to private store.

Don Anderson
22:27 26 Aug 20
Very professional and friendly service

Ross Whitmee
02:28 26 Aug 20
David was extremely helpful and super nice in what was a very stressful time for me.The guys who came to collect my stuff were absolute stars. I would definitely use this company again and happy to recommend them 😊

Carl delaney
23:00 25 Aug 20
Found this company easy to talk to and talked me through arranging to pick up my goods and transporting them to Tassie. Very professional, answered all my queries and kept me informed. Very pleased with their service. Would recommend them to anyone moving.

Christine Dees
02:10 03 Aug 20
We move families, not just homes and understand that each move is different. As trusted Townvsille, Brisbane and Cairns removalists, we pride ourselves on being responsive, flexible and approachable. We ensure that all your moving needs are catered for through our extensive range of end-to-end services designed to make things easy.
Get a quote
Locations: Cairns, Port Douglas, Kuranda, Atherton Tablelands, Edmonton, Gordonvale, Innisfail, Mission Beach, Cardwell. Cape York including, Kowanyama, Weipa, Bamaga, Mapoon, Cooktown, Lockhart River, Pormpuraaw, Aurukun, Coen. Torres Straits including Thursday Island, Horn Island and all outer Torres Strait Islands. Gulf Savanah including Normanton, Karumba, Doomadgee and Burketown.